Body Contouring in Nashville, TN
Achieve the Toned, Sculpted Figure You've Been Working Toward Without Cosmetic Surgery
It takes hard work and dedication to reach and maintain your goal weight. 
The reality is, even with a good diet and frequent exercise, stubborn fat around the tummy, love handles, upper arms, and thighs can still seem difficult or impossible to get rid of. 
At Nashville Skin Company, we can help you target these areas and smooth out the sections that have been giving you trouble using noninvasive body contouring techniques.
Contact us today to learn more about body contouring in Nashville.
What is Body Contouring?
When a person loses weight, it's common to have flabby, excess skin and fat pockets and bulges in certain areas of the body that exercise can't improve. 
Body contouring, also known as body sculpting, is a non-surgical fat reduction treatment designed to help those people remove unwanted fat.
Body contouring is not intended to be used as a weight loss solution or as an alternative to cosmetic surgeries like a tummy tuck. It is most effective for patients who have achieved their weight loss goals or are near their ideal weight and cannot get rid of stubborn fat pockets.
Non-Invasive Body Contouring Procedures Offered at Nashville Skin Company
There are different types of body contouring treatments. Some treatments use lasers and controlled heating methods to melt away fat while others use freezing-cold temperatures to get rid of cellulite. 
Nashville Skin Company is proud to offer several nonsurgical treatment options for body contouring:
CoolSculpting's fat-freezing technology gives long-term results that make trouble spots a lot less troubling. 
Fat cells don't like the cold, and at a certain temperature, they will freeze and die. Once that happens, your body will naturally eliminate the dead cells in 1 to 3 months, resulting in up to a 20 to 25% reduction of fat in a treated area.
2. CoolTone
Meet CoolTone, Allergan's latest innovation in body contouring. CoolTone is a nonsurgical body contouring treatment that uses magnetic muscle stimulation technology to strengthen, tone, and firm the muscles of the abdomen, buttocks, and thighs.
3. Z-Wave
Z-Wave uses safe, high-energy radial shockwaves to tighten skin and sagging tissue. Oftentimes, these skin tightening treatments are performed in conjunction with CoolSculpting and CoolTone cosmetic procedures to create an even smoother appearance. 
Body Contouring Before & After Pictures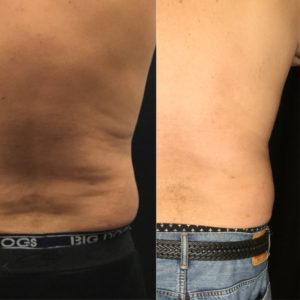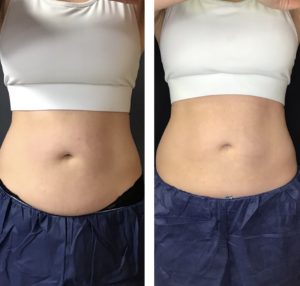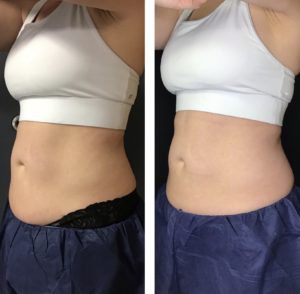 Nashville Body Contouring FAQs
What Areas of the Body Can Benefit from Body Contouring?
Common body sculpting treatment areas include:
Upper and lower abdomen

Back fat and bra fat

Buttocks

Double chin

Love handles (flank)

Thighs

Upper arm flab
How Long Do Body Contouring Results Last?
Body contouring results are typically permanent, but if you gain excess weight after your treatments, the results will no longer be noticeable. It is important to ensure you can maintain your weight to keep the results.
How Much Downtime Will I Need?
Unlike plastic surgery, bariatric surgery, and liposuction, our non-invasive body contouring treatments typically require minimal downtime. The majority of our patients are able to return to their activities without a hitch. 
What is the Best Treatment for Body Contouring?
The best body contouring treatment will depend on your goals.
If you're struggling to get rid of excess fat that even exercise can't seem to get rid of, then you'll want to look into CoolSculpting.
If you want to achieve a more toned look, CoolTone will likely be your best option.
To smooth out cellulite bumps on flabby, sagging skin, give Z-Wave will probably be the best treatment option for you.
Talk to one of our board-certified experts today for a free consultation. 
Our team strives to create an extensive experience from start to finish, beginning with a treatment plan to address your problem areas, to giving you the best treatments and services for body contouring Nashville has to offer.
Contact Nashville Skin Company Today to Start Freezing Away Fat
Contact Nashville Skin Company today to schedule a consultation or to learn more about our body contouring treatments.
Contact Nashville Skin Care & Enhance Your Body's Curves
Contact our team today to learn more about the body contouring treatments we offer in Nashville and beyond!