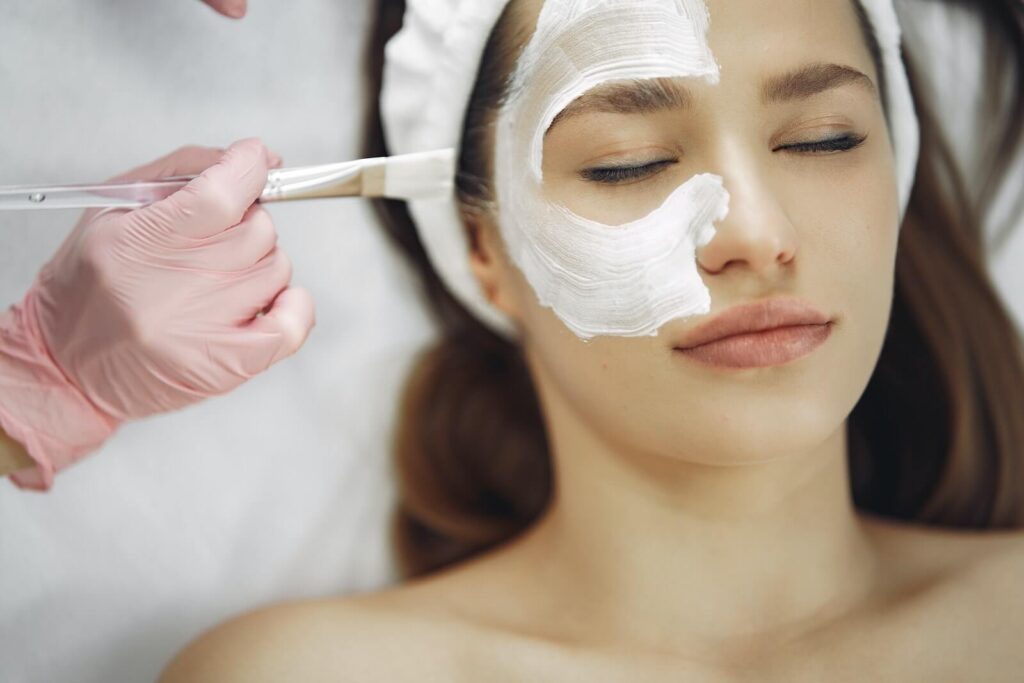 Facials and peels are among some of the most popular services at Nashville Skin Company. We offer over 10 different facials and peels for you to try. We understand that with so many different options available, it's hard to figure out what it is you want. That's why we've prepared this comprehensive list of frequently asked questions so by the time you're done reading, you'll know exactly what it is you want to try.
What is the difference between a facial and a chemical peel?
Facials use a blend of products and specialized serums to clean pores, extract blackheads and whiteheads, exfoliate and moisturize the skin.
Chemical peels use different types of natural based acids that remove the surface layer of skin to heal, resulting in smoother, healthier, younger-looking skin. Don't be alarmed at the word chemical — everything surrounding us, including our own bodies, is made up of chemical elements. Not all chemicals are inherently bad, and chemical peels are one example of this.
Both facials and chemical peels can exfoliate the skin and restore youthfulness, ultimately rejuvenating the skin. The main difference is that chemical peels are slightly more aggressive with anti-aging than facials. 
Is a facial good for your skin?
Facials are indeed good for the skin and customized to meet your skin type and your skin's needs. Some facials are designed to clear up acne on oily skin while others moisturize dry skin. Regardless of whether your skin is blemish-free or prone to acne, oily or dry, facials restore the skin's barrier and promote overall healthy skin. 
Can you see results after 1 peel?
You can see results following 1 chemical peel, but don't be surprised if the results you were hoping for are not immediate. Because chemical peels work to remove dead skin cells and a layer of skin, your skin needs to heal. Your healing can vary depending on which peel is best suited for your skin type and concerns. With some peels, you may notice redness, dryness, or mild swelling within the first few hours to the first few days following your peel. You may also experience a burning sensation and irritation as well.
Two to three days following a chemical peel, you might notice your skin starting to slough off or peel. Remember: the acid used in a chemical peel encourages the growth of newer, younger, healthier  skin. Experiencing peeling is normal, as is breaking out three to four days after the treatment due to your skin purging (releasing toxins, dirt and oil).
These side effects can continue for up to a week after your chemical peel fades away. By two weeks, you'll begin to really see the change in your skin!
Also, skip the cosmetics and wear sunscreen that protects against UVA and UVB rays and is at least SPF 30 after a chemical peel or any type of exfoliating treatment. Your skin needs more protection due to you now having new "baby-like" skin.
What kinds of facials and peels does Nashville Skin Company offer?
Nashville Skin Company offers several facial and peel options:
Nashville Skin Company's signature facial
Our signature facial cleanses, exfoliates, and nourishes your skin, resulting in a beautiful, clear complexion while keeping your skin looking young.
Nashville Skin Company's ultimate facial
Our ultimate facial is a step up from our signature facial. It brings all of our aestheticians' favorite treatments into one facial. NSC's ultimate facial includes a cleanse, chemical and physical exfoliation, an enzyme peel, hydrojelly mask, LED light therapy, hydration, and sun protection (SPF). 
Microdermabrasion
Microdermabrasion is an exfoliating facial treatment that removes dead skin.
Dermaplane facial
Dermaplaning is a physical exfoliating facial that removes dead skin cells, unwanted peach fuzz, and trapped dirt from pores. This is done using a tool that visually removes cells and allows deeper product penetration into the skin.
Oxygen lift facial
The oxygen lift facial increases cell metabolism using a blend of exfoliates, oxygen, plant-derived stem cells, peptides, and enzymatic botanicals. After our oxygen lift facial, your skin will be glowing.
Chemical peels
Chemical peels turn back the clock on wrinkles, clear up discoloration and acne breakouts, and reduce the appearance of scars. When applied, chemical peels remove the top layers of the skin, which forces the skin to heal and grow back smoother and younger-looking.
Acne facial
If you suffer from oily skin and acne breakouts, the acne facial might be a great option from you! It's a light, gentle peel that removes dead skin that clogs pores and includes blackhead and whitehead extractions as well as a bacteria treatment to cleanse the skin of dirt and oil build-up.
Microneedling SkinPen
Microneedling is a cosmetic treatment that causes tiny controlled injuries to the skin that stimulate your body's healing process while minimizing damage to the skin. Nashville Skin Company uses the only microneedling system approved by the FDA to treat scars, improve skin texture, and promote the production of collagen, a protein in the skin that keeps skin looking young and healthy. 
HydraFacial
HydraFacials remove dead skin, excess oil and dirt, and impurities while hydrating the skin with nourishing vitamins.
Hydrojelly facial
Hydrojelly facials are masks that can provide several benefits to your skin. These masks hydrate, smooth, moisturize, condition, tone, and reduce inflammation in the skin.
Photofacials
Photofacials are a special type of facial that use laser technology to address issues like hyperpigmentation and other types of discoloration. At Nashville Skin Company, we specifically use IPL/BBL Photofacial lasers for photofacials. 
Interested in one of Nashville Skin Company's facials or peels?
If one of our facial or peels from this list caught your eye, let us know so we can schedule an appointment and get your skin looking better, brighter, and younger than ever! We're also more than happy to answer any questions about what option is best for you, so don't hesitate to give us a call at 615-997-3330 or fill out our contact form.